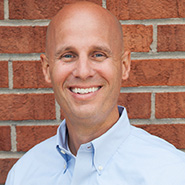 Sean Napoles is Now a $2 Million Producer in TE!
Sean Napoles, CPC of Career Brokers, Inc. reached a milestone in Top Echelon Network recently. That milestone? His 15-year anniversary.
Career Brokers joined Top Echelon Network as a member firm on October 18, 2000. Sean made his first split placement in the Network 19 days later on November 6!
Then Sean made five TE splits in 2001 and 12 splits in 2002. The rest, as they say, is history. (Whoever they are.) Sean has posted double-digit split placement totals in the Network every year since, with the exception of 2009 at the beginning of The Great Recession . . . when he made nine splits.
And now, Sean Napoles is a $2 Million Producer in Top Echelon Network!
He reached that plateau recently, making him the second recruiter in TE history to do so. The other recruiter, of course, is Trey Cameron of the Cameron Craig Group, who's now close to $3 million cash-in for his Top Echelon career.
As you might imagine, Sean has earned Recruiter of the Week laurels in the past. In The Pinnacle blog post in which we announced this status, we listed six reasons why he had earned it:
His production
His consistency
His commitment to quality
His split-minded attitude
His belief in the Top Echelon Network system
His willingness to invest in relationships
None of these six things have changed. In fact, Sean might possibly be the most consistent producer in the history of Top Echelon Network. He's an old-school split placement machine who has high standards for his trading partners and higher standards for himself.
At this point, there is absolutely no indication that the split placement machine is going to slow down soon, and we look forward to having Sean in the Network for many years to come. He's a model Top Echelon member, and we're both proud and pleased to have him represent the Network.
Congratulations to Sean Napoles from everybody at Top Echelon!