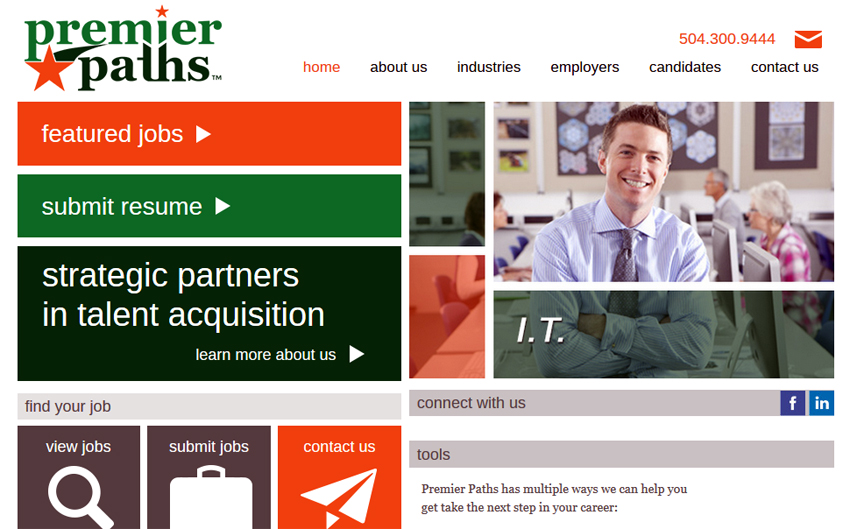 New Point of Contact for Premier Health Careers
As of November, there is a new main point of contact for Top Echelon Network Member agency Premier Health Careers, Inc./Premier Paths.
Melissa Truax founded the agency 13 years ago with the goal of serving her clients and candidates with an exceptional level of professionalism and with the aim of exceeding their expectations. Since joining the Network, Melissa has been a model Network Member.
Believing that relationship-building is key to success, Melissa has been a presenter at Top Echelon conferences and conventions and has consistently earned a spot in the Network's Top Producer rankings. She has built a reputation in Top Echelon as a recruiter who embodies networking at its very best.
Ownership of Premier Health Careers, Inc./Premier Paths has been passed to Hank Winters. Like Melissa, Hank has been a consistently high producer since he joined the Network three years ago. As a result, he will ensure a seamless transition for Premier Health Careers, providing the same exceptional level of engagement and collaboration with trading partners.
Below is the official statement from Melissa Truax:
"The reason I have decided to sell my company is due to family. Many of you know my mother was in the hospital for 146 days from April of last year until the first week of August of 2019. She had sepsis, was infected with a flesh-eating bacteria where she nearly lost her leg, and underwent six surgeries (nearly losing her life twice). Then, after recovering from this, she was diagnosed with colon cancer, but she's now in remission.
On August 15, one week after my mother got out of the hospital after almost dying again from congestive heart failure, my dad suddenly died. My mother is 85 and has lost her husband after 64 years of marriage. If you have seen the movie The Notebook . . . this very much mimics my parents. This, too, has been very difficult for me. I have a tremendous amount on my plate with my mom and it is difficult for me to do a great job of running a business and taking care of her. I feel like I am no longer able to provide excellent service and attention to the needs of my clients. I am a person who strives to give 100% to everything I do. Because I am spread so thin these days, I feel like I am not able to do everything very well. As a result, I felt I needed to make this decision in the best interest of my clients and candidates, but most importantly for my mom, myself, my husband, etc. I need to be the best daughter I can be to my mother to help her get through this final season of her life.
"I have deeply valued and appreciated the partnerships and friendships that I have developed over the last 13 years in the recruiting industry. This is a very tough business. In order to be successful in this business, one needs to have tough skin, be diligent, be tenacious, and ever so persistent . . . all the while doing all of these things with grace, integrity, and strong a character. Hank Winters has all of these characteristics, which is why I have chosen him to continue to do good for my clients. He is very humble. When all of you speak with him, you will understand why I thought he was the best person to take over what I have developed over the years.
"I am also grateful to Hank, who has been so excited to expand his business and take on what will be for him a rewarding challenge. Rewarding not just in a monetary sense, but also in the development of new relationships, partnerships and the opportunity to help more candidates get hired into new positions that often result in a life-changing advancement of their career path. We, as recruiters, really do affect the lives of others and we must always be mindful of this."
We at Top Echelon thank Melissa for her commitment to the Network and to her trading partners, and we wish her and her family the very best as she embarks upon this very important chapter in her life.
We know that Hank will be an excellent steward for Premier Paths, as he develops and drives the agency's relationships and success into our New Year!